19-08-2019, Delhi: Prostate Cancer treatment involves different types of complicated surgical procedure that needs utmost care and excellent skill sets of the surgeons to provide a successful recovery.  With the help of medical travel partners in India, overseas patients can also have world-class medical facilities from the best doctors and best hospitals for prostate cancer surgery in India. Here anyone can get low-cost prostate cancer surgery and treatment in India. The treatment procedures practiced in India for prostate cancer are:
High Intensity Focused Ultrasound – In this process, high-frequency sound energy is converted into heat and destroy cancer cells in the prostate gland.
Robotic Surgery – Here the surgery is conducted through robotic arms to make a precise removal of prostate cancer.
CyberKnife Treatment – CyberKnife is a type of Robotic-assisted Radiosurgery. In this process, a robotic arm is utilized that provides the flexibility to reach areas of the body that are unreachable by other radiosurgery systems.
Laser Surgery – This is a minimally invasive surgical process in which the prostate channel is opened through the penis, no incision is made on the abdomen.
Radical Prostatectomy – this surgery is generally done through laparoscopy; in this surgery, the entire prostate and any nearby tissues like seminal vesicles and some nearby lymph nodes are removed.
Brachytherapy – Brachytherapy is also a type of radiotherapy, a sealed radiation source is placed inside or next to the area requiring treatment, which ultimately controls the growth of cancer cells.
Hormone Therapy – by Lowering the amount of testosterone in the body, the chance of early prostate cancer coming back after treatment can be reduced.
Chemotherapy – Chemotherapy involves drugs to destroy cancer cells spread to other parts of the body even after hormone therapy.
Cryotherapy – Cryotherapy deploys an instrument to freeze and destroy cancer cells.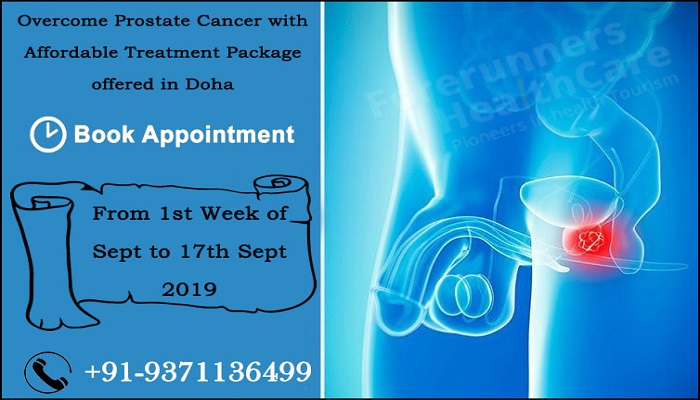 About Forerunners Healthcare: This is one of the pioneers providing world-class medical tourism services in India. It has a network of well-equipped cancer hospitals across India that specializes in providing top cancer treatment in India. Each of their hospitals is able to provide the best in class facilities, infrastructure, and the latest treatment facility to their patients so one can have the best experience during their stay in India. All the staff and surgeons are concern about their patients, their scope of treatment, survival from cancer, and complete recovery so that they can get the best results. Hundreds of patients have benefited from the procedures over the last few years.
Forerunner Healthcare will be available in the Doha from 1St September 2019 to 20th September 2019
Forerunners Healthcare Consultants
Flat No. 551, South Delhi Apartment
Sector - 4 Dwarka
Delhi - 110053
India
Email: enquiry@forerunnershealthcare.com
Phone No. : +91-9371136499