Recently, Spine and Neurosurgery Hospital India has conducted a seminar to develop awareness among people about Acoustic Neuroma, symptoms and treatment procedures to avoid unnecessary delays in treatment. Dr. Sandeep Vaishya was the main speaker of the seminar, who is a renowned Neurosurgeon in India with over 17 years of experience in the field of neurosurgery and has worked with some of the top institutions and hospitals across the country.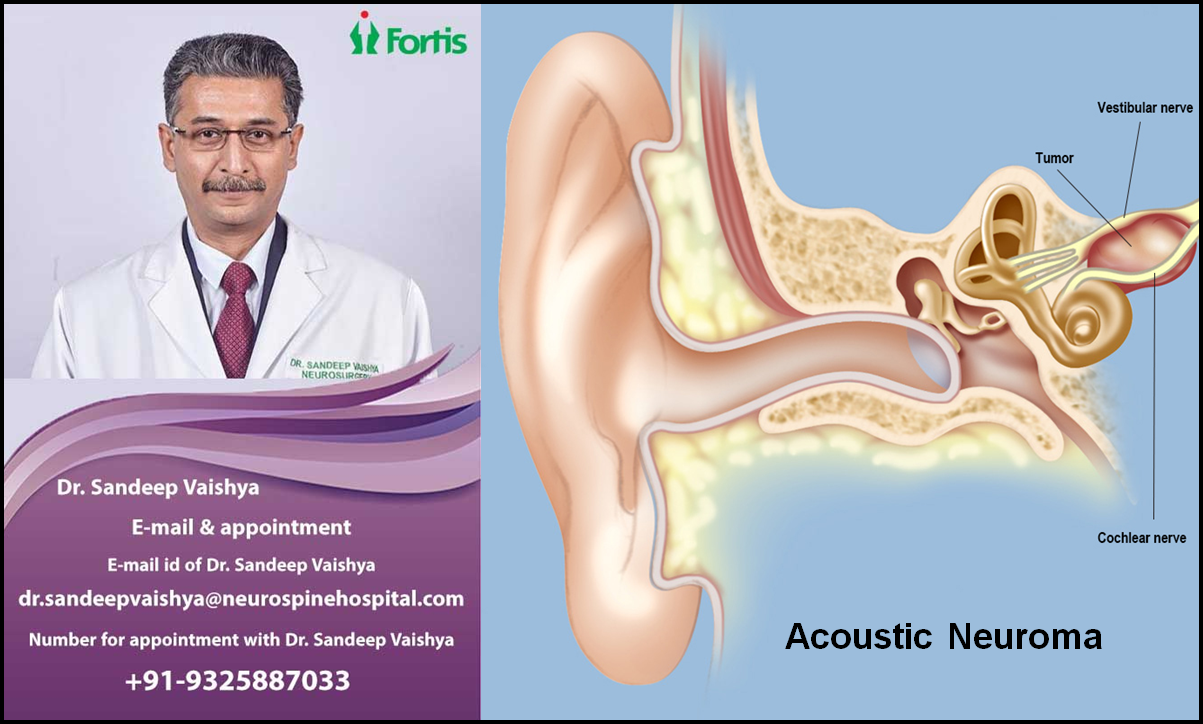 With his specialization in functional neurosurgery, minimally invasive and image-guided neurosurgery, spinal surgery, intracranial tumor surgery he explained that acoustic neuroma is a serious nervous problem causing headaches, dizziness, imbalance. Acoustic neuroma is a non-cancerous overgrowth develops on the eighth cranial nerve. There are two types of acoustic neuroma, such as:
Unilateral Acoustic Neuromas: In this case, the acoustic neuroma affects only one ear. This is not a hereditary condition.
Bilateral Acoustic Neuromas – In this case, the acoustic neuromas affect both ears and this is hereditary. This causes due to a genetic disorder called neurofibromatosis-2 (NF2).
Dr. Vaishya also added that the surgery of acoustic neuroma is a complicated one which involves surgery inside the inner ear, and sometimes inside the skull, depending on the exact location of the tumor. Depending on the size of the tumor, the degree of complication may vary. If the non-cancerous tumor has reached a size where symptoms become problematic, then surgery becomes the only option to get relief from such condition. Dr. Vaishya said that the acoustic neuroma surgery India involves both microsurgery and neurosurgery; therefore, it requires a highly-qualified and experienced surgeon to perform the surgery successfully. Along with the best surgeon for brain tumor surgery, the latest techniques and modern equipment is also crucial for successful acoustic neuroma surgery. He also added that India has a number of brain tumor surgery specialists with expertise in the required field to offer successful removal of a tumor of the cranial nerve.
Every year, over a million people come to India different surgical requirements and avail the low-cost medical treatment packages for cost-effective recovery.
About Spine and Neurosurgery Hospital India: This is a pioneer organization offering the facility of affordable medical treatment packages in fields of spine and neurosurgeries. They are one of the best organizations offering Acoustic neuroma surgery in India at a very affordable price. They have a network of experienced and most skilled surgeons in the country specializing in different fields of neurosurgery.
If you have any queries, fill the free consultation form below. Our experienced medical counselors are happy to answer your questions and assist in scheduling your free and instant appointment and help you on your journey to achieve your health goals.
Spine and Neuro Surgery Hospital India
72, 19th D Cross Rd,
Stage 2, BTM Layout,
Bengaluru, Karnataka 560076
India.
International Helpline Number : +91-9325887033
Email: [email protected]
Check Out These Popular Press Releases