26-07-2019, Delhi: Biliary atresia is a rare medical condition of the liver and bile ducts occur in infants. This is a kind of progressive liver disease in which the bile ducts outside and inside the liver remains blocked or absent. As a result, the bile juice can't flow into the intestine, kidney, and stomach and starts accumulating in the liver. This trapped bile juice causes damage to the liver which leads to scarring, loss of liver tissue and function, cirrhosis and ultimately liver failure. In the case of Biliary Atresia, the symptoms start to appear about two to eight weeks after birth. The first sign of biliary atresia is similar to jaundice, yellowing of the skin and whites of the eyes along with dark urine and clay-colored stools.
Biliary Atresia Kasai Procedure in India can be conducted in three steps. Initially, if the complication is a little less, the doctors try to manage the situation using medication and a special diet. But that can be a temporary solution. The most recommended and effective treatment for biliary atresia is hepatoportoenterostomy, a surgical procedure to re-establish the bile flow between the liver and the intestine by joining the two directly.  This surgical procedure is commonly known as the 'Kasai procedure'. This surgical procedure is also not a permanent solution to Biliary Atresia, it basically slows down the damage of the liver and delaying or preventing any further complications and the requirement for an immediate liver transplant. If the Kasai procedure fails, a liver transplant is the only way to save the child.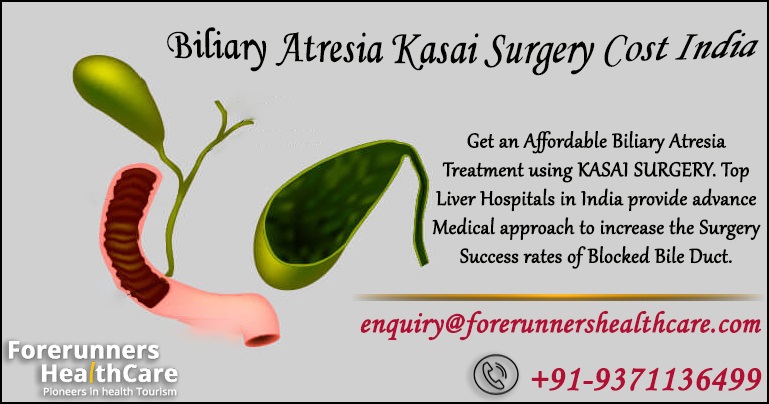 Compare to other developed countries, the cost of Biliary Atresia Kasai Procedure is much lower in India. Therefore, every year a number of overseas parents come to India to avail the affordable atresia Kasai procedure to save their child's life.
About Forerunners Healthcare: Forerunners Healthcare is one of the pioneer medical tourism service providers in India. They have a network of experienced and skilled surgeons and well-equipped hospitals with lasted technology and instruments to provide top-notch treatment facility to the patients around the world. They offer top-class liver-related treatments and surgical procedures including liver transplant. They also have a team of experienced service industry consultants to provide professional assistance to take care of the special requirements of the overseas patients and their family members. Forerunners Healthcare is the organization bridging the gap between the medical requirement of overseas patients and the excellent and affordable treatment facility available in India.
Forerunners Healthcare Consultants
Flat No. 551, South Delhi Apartment
Sector - 4 Dwarka
Delhi - 110053
India
Email: [email protected]
Phone No.: +91-9371136499
Check Out These Popular Press Releases