18 Nov 2019, Delhi: Recently, spine and neurosurgery India has conducted a similar clinical trial as Carol A Mancuso (Hospital for Special Surgery, New York, USA) about the effect of psychosocial behavioral intervention on the patients' recuperation from lumbar surgery. They observed surprising improvements in the physical activity of the patients.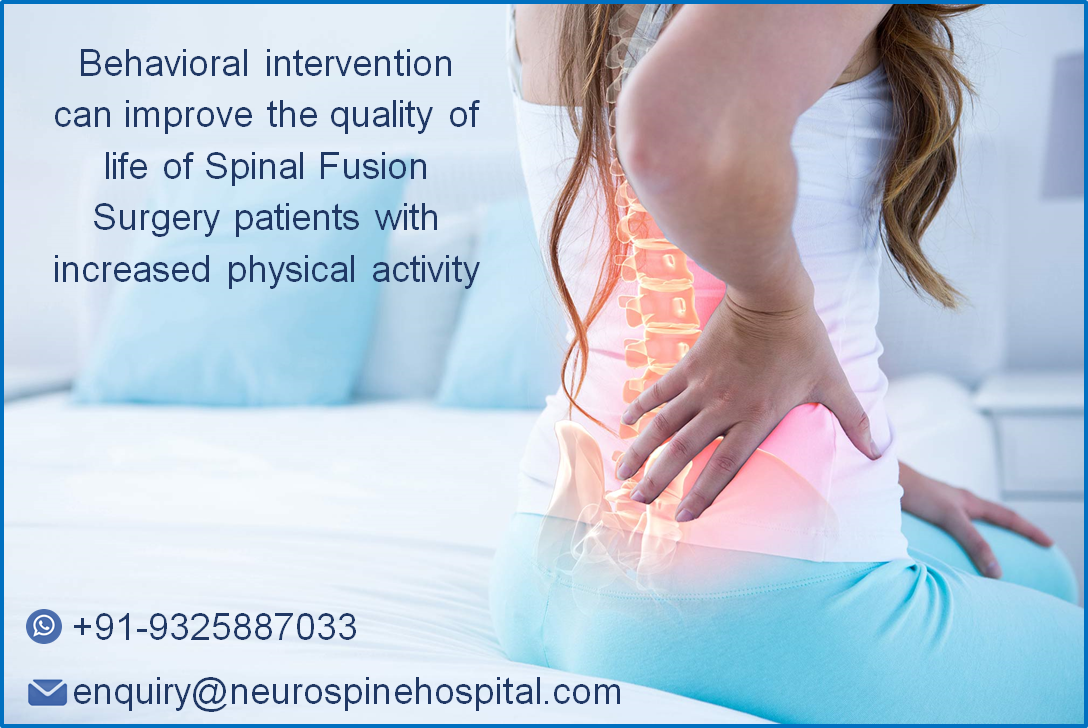 Post-surgery, the spine fusion patients are instructed to restrict their normal physical activity for several months for safe recovery. As a result, some of the patients become habituated to restricted physical activity and start to live a sedentary lifestyle. The fear of spine injury, persistent pain, deconditioning and habit keeps them away from normal physical activity, which ultimately leads to poor long-term general health, known as sedentary death syndrome.
Being concern about the after-effects such as restricted life-style, therapist and medical professionals works to improve the quality of life of Spinal Fusion Surgery patients. They have conducted few randomized clinical trials to determine the effect of a psychosocial behavioral intervention; where such activity would be helpful in improving physical activity, mainly walking,  after four months of a Spinal Fusion Surgery in India.
About 260 patients have participated in the trial; the patients were first approached and enrolled in the trial during their routine 3-month post-operative check-up. The patients were provided with an informative booklet on the benefits of physical activity and instructions on how to carefully increase activity, primarily walking. Each patient was then provided with a pedometer and also encouraged to make a self-contract to increase walking. The patients also received weekly and then monthly follow up phone calls, to ensure safety and encourage the contract.
The primary outcome was assessed against the Paffenbarger Physical Activity and Exercise Index (PAEI), considering the daily distance walked, stairs climbed or any exercise completed, and so on. After four months of the surgery, all patients were then repeated the PAEI and the result was incredible. The outcome has shown that the intervention patients had recorded more walking.
As preoperative mobility is markedly limited by the spine disability, the behavioral intervention also shows promising results for Lateral Lumbar Surgery in India to increase the walking ability of the patients.
About Spine and Neuro Surgery Hospital India: This organization has a network of experienced medical professionals, therapists, and well-equipped hospitals to offer excellent treatment and rehab facilities for patients around the globe.
Spine and Neuro Surgery Hospital India
72, 19th D Cross Rd,
Stage 2, BTM Layout,
Bengaluru, Karnataka 560076
India.
Email: [email protected]
International Helpline Number: +91-9325887033
Check Out These Popular Press Releases
Popular
Sorry. No data so far.