Most people consider sharing their liver with an ailing relative, same case has taken into consideration with Mother and daughter from UAE who have arrived to India through tourism where Nurjahan Mohammad Sabir (42 years), suffering from liver cirrhosis which caused her suffering from a lot from her leg pain, which family thought was normal but after some time she started getting fatigued, discoloration in the skin and eyes seen, she even had the weight loss that can be examined easily.
After consulting doctors in UAE, their search for getting better quality outcomes made them visit India through medical tourism. The family from UAE traveled to Mumbai, India for liver transplant surgery. Earlier this year, when Nurjahan Mohammad Sabir was told she has liver failure. That was when they had interacted with Dr. Ravi Mohanka, the Best Liver Transplant Surgeon, Global Hospital in India.
Dr. Ravi Mohanka is the chief surgeon and head of the department of living transplant and Hepato-Biliary surgery at Global Hospital, Mumbai. The global hospital is a multispeciality hospital's expanding in the field of surgeries and advanced technologies. Dr. Mohanka is not only a trained and reputed surgeon in India but also has performed several complex liver transplant surgeries that are untreatable in countries other than India.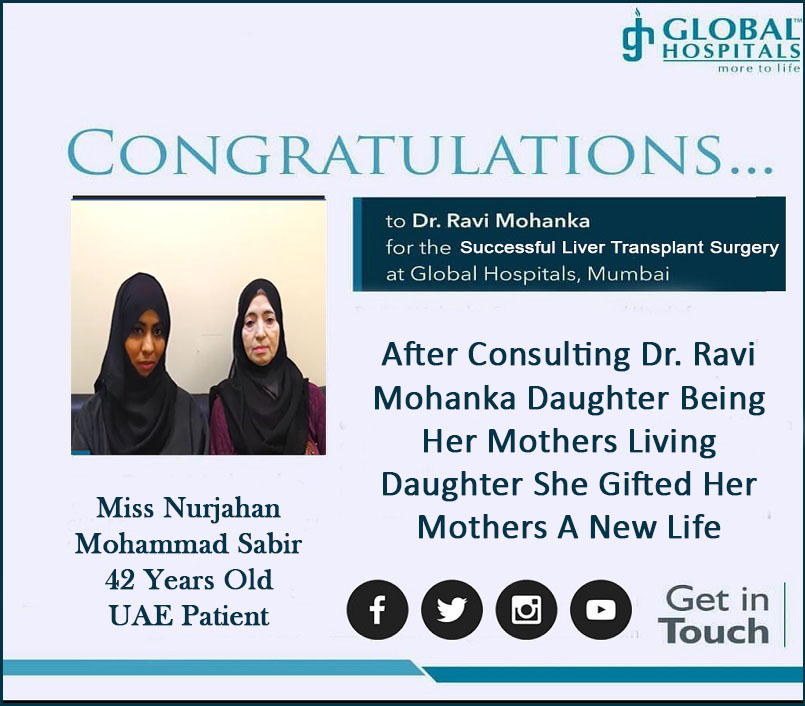 Dr. Ravi Mohanka recommended the family to have a quick decision for a living donor. Nazneen Sabir Muhammad wanted to help her mother fo being the living donor; she had her tests for being a perfect match; that's when Dr. Mohanka with his team had a successful liver transplant surgery of mother with her own daughters liver.
Dr. Ravi Mohanka says, "After the vast majority of complications that do occur are treatable, both mother and daughter are safe, and have been discharged after complete recovery."
 "It's every daughter's dream to save her mother, and I did the same thing. I am happy to see her out of every danger. I feel proud and so as my mother, she felt healthier and much better than before. " Said Nazneen.
While many patients visit India with tourism for the liver transplant and other major surgeries, they get the facilities of having treatment at an affordable cost. The same medical tourism provider is the Forerunners healthcare that providers of medical tourism to international patients from all over the world in India. Forerunners healthcare experts provide all the facilities to native and international patients with medical visas, accommodation, pick and drop facility from the airport.